Campus Lodging: Governors Hall
Available until Monday, April 30, 2018.
Stay within walking distance of the conference. You can stay on campus at UNC Asheville!
Four to five people share a suite. Suites are composed of varying configurations of double and single occupancy rooms and a shared bathroom.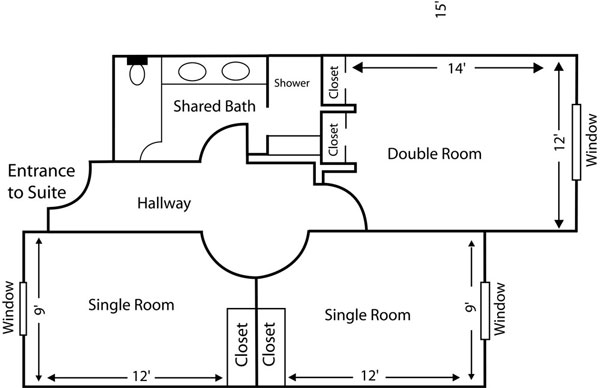 Amenities include:
One microwave-refrigerator per room
Carpeted Rooms
Air-conditioning
Laundry room
Community kitchen
TV lounges
Vending area
Several study lounges
High-speed Wireless Internet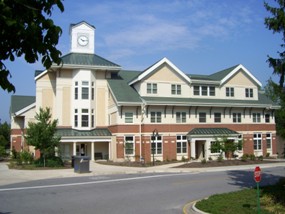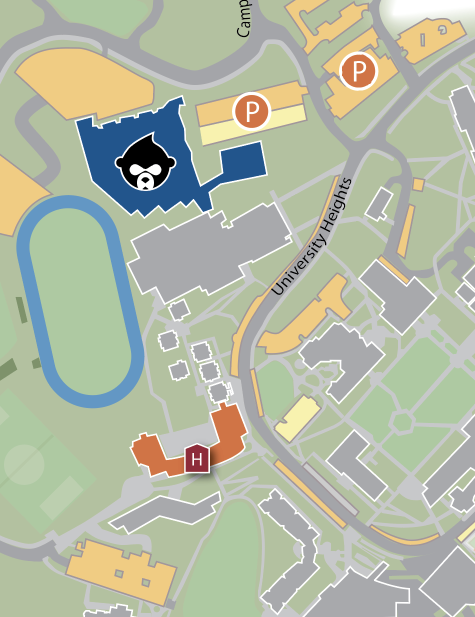 Campus Housing Packages
Each housing package covers one person for 3 nights, Thursday - Sunday, and one set of linens: towel, wash cloth, sheets, and pillow case. You may want to bring a blanket and pillow.
We will work to match roommates and suitemates to ensure a safe and enjoyable stay for all. When purchasing a housing package, note your roommate and suitemate preferences and any additional accommodation requests. Families are welcome.
Campus Housing Package - Private Room: covers one person in a single occupancy room.
Private Room: $259.68 + $8.48 fee
Campus Housing Package - Shared Room: covers one person in a double occupancy room.
Shared Room: $145.98 + $5.64 fee
If you will be parking a car on campus, you will need to order a $5 Conference Parking Permit. If you are staying on campus, parking permits will be available for purchase during housing check-in.
---
Crowne Plaza Resort Asheville
Ten reserved rooms available until Tuesday, June 12, 2018 at midnight.
If you are looking for hotel lodging, the official Drupal Camp Asheville hotel is Crown Plaza Resort Asheville. Crown Plaza Resort Asheville sits on 125 acres adjacent to downtown Asheville and offers guests access to on-site dining, fitness, golf, pool, spa, tennis, zip line canopy tours, and more.

Reserved Room Rates: Two Queens ($189/night), King ($204/night)
Reserved Nights: Thursday 7/12/18 - Saturday 7/14/18
The rate is also good for an additional 2 days before or after the nights reserved, based on availability.
Guest Room Information
The rates are subject to all imposed taxes which are currently 13% per room/per night (7% State Tax, 6% Occupancy Tax).
Check in time is 3pm. Check out time is 11am.
Hotel has a 72 hour cancellation policy.
Hotel requires 24 hour notice for early departure.
Hotel is a smoke free facility.
A limited number of Roll-away beds are available at $12+tax per night.
The Pet Fee is $25+tax per night and non-refundable.
To reserve a room, call 1-844-330-0296 and refer to the "Drupal Camp Asheville" group name or book online. Check availability by visiting www.ashevillecp.com and use the Group Code "DUR".